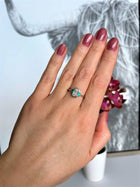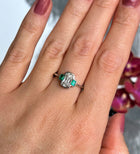 Only One Available / ready to ship in white gold




Diamond engagement ring bezel style custom made 1.02ct cushion Lab Grown Diamond Chris Cut Style Engagement Ring, set in a bezel adorned with two natural Colombian emeralds. This one-of-a-kind custom-made ring features a minimalist design with a modern elegance that is sure to catch the eye of anyone who sees it.





Crafted with precision and care, this ring is not just a beautiful piece of jewelry, but also an ethical and sustainable choice. The use of lab grown diamonds ensures that you are getting a high quality, conflict-free diamond that is just as stunning as a traditional diamond. And the addition of natural Colombian emeralds adds a touch of unique charm to this already exceptional ring.





Whether you're looking for an engagement ring or a unique piece to add to your collection, this diamond and emerald ring is sure to impress. Its minimalist style and modern elegance make it a perfect choice for anyone who loves understated yet sophisticated jewelry. Order yours today and enjoy the beauty and quality of this exquisite ring for years to come.





Finger size 6.5





All my jewelry is designed and manufactured at two family owned local manufacturing shops in NYC and my jewelry only uses Conflict Free Diamonds from reputable diamond dealers with Kimberly Trade certificates.